I ordered a chalkboard from Amazon to add to my studio. Sounded like a good idea at the time. Took two weeks+ to get here, but did I get the chalkboard? Nope. I got a large and very heavy bookshelf.
.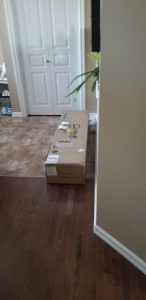 Absolute incompetence on the part of the seller. The wrong item packaged.. Purolator weighed in as 1 lb. Clearly nobody was paying attention. Gets worse! Contact the seller. All they do is send us a Canada Post shipping label and expect us to cart this massive heavy (50lb)plus bookshelf we didn't order to there in order to ship it back. They won't even send the chalkboard I'd originally ordered. Just a refund. (Hardly making up for all the extra effort put in to return it). There's no direct contact with the seller, just a tiny portal into the vast ocean of crap that is Amazon. I sure wish this seller would do the right thing, have it picked up and provide what I'd already ordered.
What a complete disaster!